Free Auction Websites
All Auction Flex customers are eligible to receive a free HiBid website. This website will be under your domain and you can edit the pages at any time. You can think of HiBid auction websites like a lighter easier version of WordPress. Plus they are 100% FREE!
For an example check out www.auctionexample.com
How does it work?
Step 1 - Register your domain with the registrar of your choice (like godaddy.com).
Step 2 - Email us your company logo and any other images you want on your site and we will create a template for you based on the colors in your logo. We will then email you a link to your custom template.
Step 3 - Using the link we emailed, you will login to the auctioneer backend and create your custom pages (about us, contact us, etc.).
You can edit your pages using the built-in simple editor.
You can control various aspects of the menu including the order.
You can also control what page is the "home page". The home page can be your current auctions (recommended) or you can set a static home page.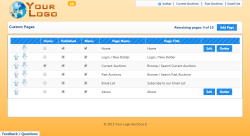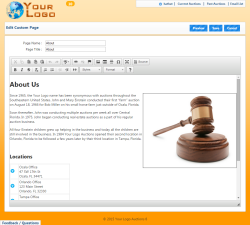 Watch this video to see custom pages in action!
Step 4 - Login to your registrar and update your domain nameservers to the DNS server names we provide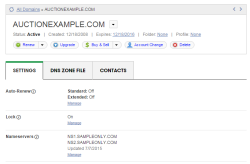 Step 5 - You're done! You are now hosting your site for free with HiBid!
More Examples
We have over 100 auctioneers that utilize free HiBid websites. Here are a few examples:
Responsive?
Yes, your free site will be completely responsive (mobile-friendly) too. This means your site will look beautiful on full computers, smartphones, and tablets.
Questions?
As always, if you have any questions please don't hesitate to contact us.
HiBid Info