Mobile Apps
Would you like a mobile app for your company in the iTunes and Google Play stores? We can build that for you.
Discover the power of HiBid automatic push notifications for your auctions! When bidders visit your site from a mobile device they will automatically be prompted to download your app. All bidders that have installed your app will automatically receive push notifications when auctions they're registered for are closing soon and when lots they're watching are closing soon. You can also send out manual push notification at any time.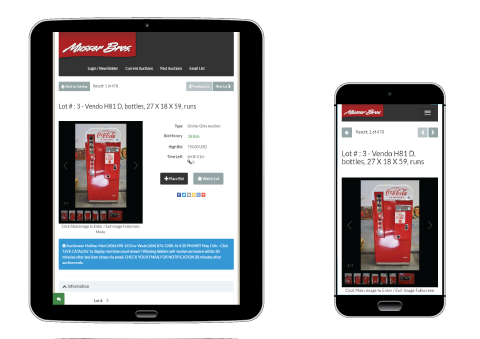 The HiBid Mobile App is branded to you with your logo and colors. The app costs a one-time $1,000 USD setup fee and then $50 USD per month to cover updates and push notifications.
Customer HiBid Mobile Apps for iOS

Customer HiBid Mobile Apps for Android
To get started with your own mobile application simply contact us.
Did you know that we can also host your website for free? Combined with our mobile app this combo can't be beat.
HiBid Info