Touchscreen Kiosk - Bidder Self Check-In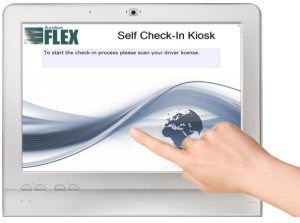 The touch screen kiosk allows bidders to check themselves into an auction by scanning their drivers license.
In addition to the information on the drivers license you can optionally:
Ask the bidder for their phone# and/or email address
Ask the bidder how they heard about the auction
Require explicit acceptance of the auction terms and conditions
Require credit card info via credit card swipe
Take picture of buyer via webcam
Once the bidder has provided the required information, the kiosk automatically prints the bidder their bidder card. You can print bidder cards on a full sheet of paper/cardstock using any ink-jet or laser printer or you can print bidder labels using a Dymo label printer.
Demo Video