Catalog by Image
Cataloging by Image is the fastest, most comprehensive way to catalog your auction in the industry. After taking pictures, this Auction Flex feature will allow you to assign lot numbers, leads/descriptions, inventory types, estimates, reserves and starting bids all on a single form, and all without ever renumbering your images or manually dragging-and-dropping.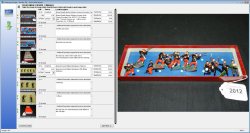 Your Sanity is Our Goal.
Cataloging an auction can take days...weeks. This feature in Auction Flex was designed to save you countless hours behind the computer. When following a visual queue based on lot number and image(s) for that lot, the cataloging process has been reduced to a single step. Gone are the days of writing, re-writing, taking pictures, renaming picture files, etc. If you have not explored this feature, now is the time!
Making it Work for You
To ensure you get the best results from Cataloging by Image follow the steps below. We guarantee there is not a faster option for cataloging your auction.
Place lot number tags on your lots.
With the first photo of the lot, make sure the lot# is visible.
Now take additional photos of the lot from different angles ensuring that the images will be sufficient to accurately describe the lot. Include rulers or tape measure in the photo when dimensions are useful.
From the Catalog by Image screen, have the consignor codes available for faster data entry. The first image of the lot will be shown with the lot# visible. Type in the lot#, the consignor code, and the description. If the next image is of the same lot, simply type the same lot# again and Auction Flex will automatically recognize that this is an additional image of a previously entered lot. Auction Flex will provide an additional description box which allows you to "add" to the previously entered description.
The catalog by image screen automatically maximizes to fill your screen. The larger your screen, the larger the thumbnail on the active row is blown up to the right of the data entry area. Using a large, hi-resolution monitor will give you the best experience when using this feature.
Image Editor & Exporting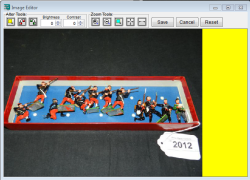 The Catalog by Image form includes a built in image-editor. The image editor provides simple tools to crop, resize, rotate, brightness/contrast adjustments and zoom capability. The ability to change an un-useable image into a perfectly cropped detailed photo is an incredible time saver.
Auction Export
After you've entered all your lots, Auction Flex can export your catalog and images into a Simulcast Ready folder. The spreadsheet will be created for you according to your specifications. The images are also automatically renumbered, which means hours of time saved.
If you have any questions regarding this or any other feature please Contact Us!