QuickBooks Integration
Auction Flex includes the ability to export consignor checks to QuickBooks. This feature is limited to Quickbooks 2002 or later and only the Pro or Premier editions of QuickBooks.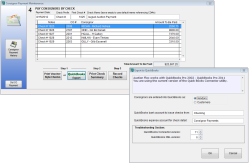 To use the Auction Flex QuickBooks export feature you must download and install the QuickBooks connector utility below:
Version 11 of the QuickBooks connector utility should work for all supported versions of QuickBooks (2002 and up Pro or Premier):
QBFC11_0Installer.exe
This past version downloads are for troubleshooting purposes only.
QBFC5_0Installer.exe

If you have any questions or problems please don't hesitate to contact us.