Drivers License Check-In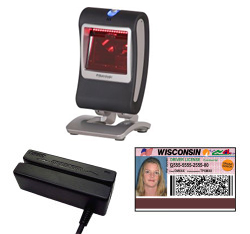 Using our Quick Check-In feature utilizing a magnetic stripe reader or 2d barcode scanner (depending on your state's drivers license) you can expect to double the number of registered buyers and quadruple the number of new buyers checked in to your auction per minute. And since our software is not modularized you can get started for the cost of the magnetic stripe reader ($100 US) or 2d barcode scanner ($395 US).
To order your drivers license scanner contact us.


Please note that we only support hardware that is purchased directly from us. If you purchase your DL scanning hardware from somewhere else we can not support it and can not guarantee that it will work.
---
States/Provinces/Territories known to have compatible drivers license technologies include:
United States:

Magnetic Stripe

2D Bar
Code
Notes

Alabama

No

Yes

Alaska

No

Yes

Arizona

Yes

Yes

Arkansas

No*

Yes*
* Starting in 2012, licenses switched from a magstripe to a 2dbarcode

California

Yes

Yes*
*2d added 2009

Colorado

Yes

Yes

Connecticut

No

Yes

Delaware

No

Yes

District of Columbia

No

Yes

Florida

Yes

Yes

Georgia

No

Yes*
*Licenses produced after 11/30/2009 will work.

Hawaii

No

Yes

Idaho

No

Yes

Illinois

No

Yes*
* 2014-07-14 - New licenses (June 2014 and up confirmed) now work with Auction Flex. Older licenses do not include full address information and will not work.

Indiana

No

Yes

Iowa

Yes

Yes
*02/24/2011 - New licenses do not have magstripe.

Kansas

Yes

Yes
*Older licenses have the mag-stripe, but there is no information encoded on the mag-stripe.

Kentucky

No

Yes*
*Newer licenses require special Auction Flex mode (in settings & options) to ignore extraneous encoding

Louisiana

Yes

Yes

Maine

No

Yes

Maryland

No*

Yes
* 2009 and up licenses only have 2d barcode

Massachusetts

No*

Yes
*2014-11-11 Customer reports that license no longer has magstripe.

Michigan

No*

Yes**
*The mag-stripe exists but can not be used as they only encode DL# and birth date.

**New enhanced MI licenses will parse correctly. The enhanced license is a 2d barcode that is available for an extra $45 per person and is used for entry into Canada without a passport.

Minnesota

Yes

No*
*2d barcode is present but incomplete and can not be used.

Mississippi

No

Yes

Missouri

No

Yes

Montana

No*

Yes*
* Starting in July, 2008, licenses only have 2d barcode

Nebraska

No

Yes

Nevada

No

Yes

New Hampshire

No*

Yes
* Starting in early 2014, licenses only have 2d barcode

New Jersey

No

Yes

New Mexico

Yes

No

New York

No*

Yes
*Present but incomplete implementation.

North Carolina

No

No*
*April 2007 and later issued DL's work. Older licenses are encrypted and will not work.

North Dakota

No

Yes

Ohio

Yes

No

Oklahoma

No

Yes

Oregon

No

Yes

Pennsylvania

Yes

Yes

Rhode Island

No

Yes

South Carolina

No*

Yes
* As of Feb 1st, 2011 DL's no longer have a magstripe.

South Dakota

No

Yes

Tennessee

No

Yes

Texas

Yes

Yes*
* Starting around 2010, older licenses will only have magstripe.

Utah

No

Yes

Vermont

Yes

Yes

Virgin Islands

No

No

Virginia

No

Yes

Washington

No

Yes

West Virginia

No

Yes

Wisconsin

No*

Yes
* Apr-2008 - New licenses only have 2d barcode.
Wyoming
No
Yes
Canada:
Alberta
No
Yes
British Columbia
Yes
Yes
* June-2010 - Older licenses (<=2005) only have magstripe
Manitoba
Yes

New Brunswick

No*

Yes*
* July 2014 - new licenses no longer have magstripe, the only have 2d barcode. Older licenses have only a magstripe.

Newfoundland

No

Yes
Northwest Territories
Yes

Nova Scotia

No

Yes
Nunavut
Yes

Ontario

No*

Yes*
* Dec-2011 - new licenses no longer have a magstripe - they only have 2d barcode. Older licenses have both a magstripe & 2d barcode.
Prince Edward Island
Yes

Quebec

No

Yes*
*2d barcode from 2009
Saskatchewan
Yes
Yukon Territories
Yes