Credit Card Processing
Auction Flex includes full credit card processing capabilities for both your live auctions and your internet auctions.
Screencap below is an example of accepting a credit card at your live auction where you have the credit card in hand. Auction Flex prompts the user to swipe the card. If the card can't be swiped the user can optionally manually enter in the information.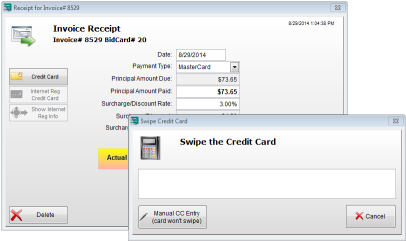 For auctions with internet bidders Auction Flex can batch process the credit card payments for you and email out the paid invoices automatically.